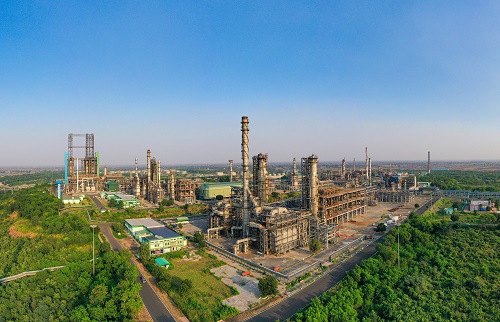 Ethylene Cracker Project at Bina Refinery, including downstream Petrochemical Plants, and expansion of Refinery from 7.8 MMTPA to 11 MMTPA, with capital expenditure of approx. Rs. 49,000 crore. Project to cater to the growing market demand for petrochemical products in India. Aligned with GOI's Atmanirbhar Bharat vision for petrochemicals in the country.
Setting up two 50 MW Wind power plants in Madhya Pradesh and Maharashtra for captive consumption at Bina Refinery and at Mumbai Refinery respectively, with total project cost of approx. Rs. 978 crore (Rs. 489 crore for each project)
Putting up of Petroleum Oil Lubricants (POL) and Lube Oil Base Stock (LOBS) installations with receipt pipelines at Rasayani in Maharashtra with project cost of approx. Rs. 2,753 crore.
Bharat Petroleum Corporation Limited (BPCL), a leading oil and gas company in India, is pleased to announce its ambitious expansion plans worth Rs. 49,000 Crore, further increasing the Company's footprints in petrochemical segment and renewable energy, together with augmenting marketing infrastructure.
Bina Refinery
The core component of the expansion projects is the Ethylene Cracker Project, which will drive the production of essential petrochemicals. The project encompasses the establishment of an Ethylene Cracker (EC) Complex, downstream Petrochemical Plants, as well as the expansion of the existing Refinery capacity from 7.8 MMTPA to 11 MMTPA and associated facilities at Bina Refinery. With a capital expenditure of approximately Rs. 49,000 Crore, this initiative marks a significant milestone for BPCL and energy sector as a whole.
Bina refinery expansion will meet the growing demand of petroleum products in central and northern India while also providing necessary feedstock to EC complex. While Petrochemical Plant will cater to the growing domestic demand for petrochemical products.
Shri G Krishnakumar, C&MD, BPCL, said, "BPCL has leapfrogged into the world of Petrochemicals as we embark upon the ₹49000 Ethylene Cracker project in our Bina Refinery, in step with the expansion of Refining capacity to 11 MMTPA. Combined with our investment in Wind Energy and new age Petroleum Oil Lubricants installations built for sustainable processes, this is a watershed moment in our strategic endeavour to be at the forefront in meeting the rapidly growing demand for energy and Petrochemical products in India."
We are steadfast in aligning our strategic imperatives with the Governments Atmanirbhar Bharat mission to make India a self-reliant and globally competitive petrochemical powerhouse.
"These future defining projects will generate employment opportunities and bolster our sustainable energy capabilities, a step towards a secure and net zero future."
In the endeavor to enhance Renewable Energy footprints, the company will set up two 50 MW Wind power plants in Madhya Pradesh and Maharashtra for captive consumption at Bina and Mumbai Refineries respectively. With a total project cost of approximately Rs. 978 Crore (Rs. 489 Crore for each project), these wind power plants will be contributing to a greener and more eco-friendly operation.
Furthermore, Bharat Petroleum is making significant investments in Petroleum Oil Lubricants (POL) and Lube Oil Base Stock (LOBS) installations with receipt pipelines at Rasayani in Maharashtra. This project, with an estimated cost of approximately Rs. 2,753 Crore, aims to augment storage capacity, smoothen the supply-chain and streamline the distribution of essential petroleum products.
The expansion project at Bina Refinery and the other initiatives demonstrate BPCLs dedication to meet the evolving energy needs of the nation and ensure energy security and sustainability. These investments will not only strengthen the companys position in the petrochemical industry but also contribute to the economic growth and development of the regions where the projects are based.
The expansion project aligns with Bharat Petroleums vision to diversify and expand in adjacent and alternative businesses to create additional revenue streams and cleaner environment by building the renewable energy portfolio to achieve our Net Zero targets in Scope 1 and Scope 2 emissions.
About Bharat Petroleum Corporation Ltd. (BPCL)
Fortune Global 500 Company, Bharat Petroleum is the second largest Indian Oil Marketing Company and one of the premier integrated energy companies in India, engaged in refining of crude oil and marketing of petroleum products, with a significant presence in the upstream and downstream sectors of the oil and gas industry. The company attained the coveted Maharatna status, joining the elite club of companies having greater operational & financial autonomy.
Bharat Petroleum's Refineries at Mumbai, Kochi and Bina Refinery have a combined refining capacity of around 35.3 MMTPA. Its marketing infrastructure includes a network of installations, depots, energy stations, aviation service stations and LPG distributors. Its distribution network comprises over 21,000 Energy Stations, over 6,200 LPG distributorships, 525 Lubes distributorships, 123 POL storage locations, 53 LPG Bottling Plants, 70 Aviation Service Stations, 4 Lube blending plants and 4 cross-country pipelines.
Bharat Petroleum is integrating its strategy, investments, environmental and social ambitions to move towards a sustainable planet. The company has chalked out the plan to offer electric vehicle charging stations at around 7000 energy stations over next 5 years.
With a focus on sustainable solutions, the company is developing a vibrant ecosystem and a road-map to become a Net Zero Energy Company by 2040, in Scope 1 and Scope 2 emissions. Bharat Petroleum has been partnering communities by supporting innumerable initiatives connected primarily in the areas of education, water conservation, skill development, health, community development, capacity building and employee volunteering. With 'Energising Lives' as its core purpose, Bharat Petroleum's vision is to be the most admired global energy company leveraging talent, innovation & technology.