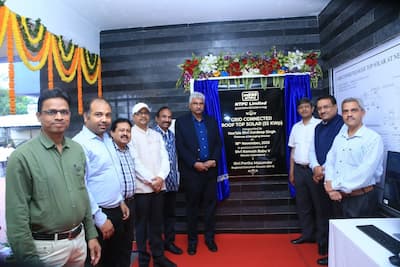 Gurdeep Singh, CMD, NTPC inaugurated the 55 KWp Grid Connected Roof Top Solar plant at NTPC ER-II HQ Guest house in Bhubaneswar, on 18th November, 2023 in the presence of Shri Ramesh Babu V, Director (Operations) and Shri Partha Mazumder, RED (ER-II).
This 55 KWp solar plant installed on the roof and shed of the guest house building comprises 101 solar panels installed in 8 strings.
The solar plant is expected to generate around 64,000 units of electricity per annum and at present shall meet 82% of the electric energy requirements of the guest house.
It is the step towards the "Net Zero Mission" for the guest house in Bhubaneswar.
CMD, NTPC congratulated ER-II HQ team for this initiative towards renewable electricity generation. He advised the team to explore installation of more solar panels, with new structures over the roof, for enhancement of the generation capacity.