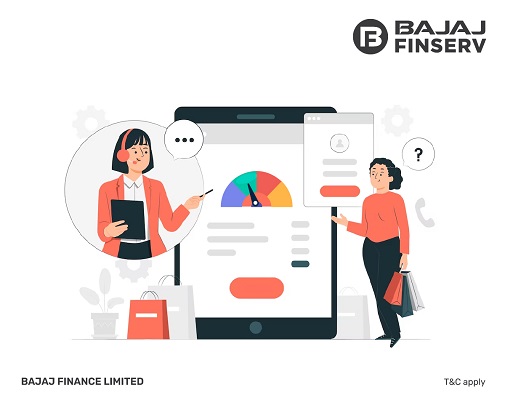 Learn why regularly monitoring your credit score is key to your financial success and how Bajaj Finserv can help you stay ahead of the game.
Keeping an eye on your CIBIL Score is essential for your financial well-being. But what is your CIBIL Score In simple terms, this three-digit number is like a grade that lenders use to evaluate your creditworthiness. The higher your score, the more responsible you appear – much like a higher GPA reflects your academic prowess, a higher CIBIL score indicates your financial prowess. Your CIBIL Score is calculated based on diverse factors, including your payment behaviour, credit utilisation, and length of credit history. An ideal score of around 750+ can ensure greater chances of approval for your credit applications and snag your more favourable terms as well.
The importance of regularly monitoring your CIBIL Score
Why is tracking your CIBIL Score important
Just as it's advisable to keep an eye on the fuel gauge while driving your vehicle to ensure a smooth ride, monitoring your CIBIL Score helps you stay in control of your financial journey. By regularly checking on your score, you can easily identify fluctuations and discrepancies, and take proactive steps to address mistakes before they damage your credit health. However, it isn't always about an error or an update that has fallen through the cracks. A close watch also empowers you to pinpoint areas for improvement so that you can take the necessary measures to boost your score.
Introducing the Bajaj Finserv Credit Pass
Now, here comes a real game-changer for managing your financial well-being: the Bajaj Finserv Credit Pass. Think of it as your go-to, personal credit coach for navigating the various factors involved in your credit journey that might pose as roadblocks. What does this unique CIBIL-powered tool offer you
A personalised dashboard with a comprehensive bird's-eye view of your credit profile
Easy tracking of all the factors that influence your CIBIL Score
Monthly CIBIL Score updates
Handy tips and tricks to improve your credit score
Interactive tools like the Credit Score Simulator and the EMI Calculator so you can make informed choices about credit products
Unlimited access to all these features for free for the first 12 months, if you sign up during the introductory offer period
How can you sign up for the Credit Pass
A few simple steps is all it takes to sign-up for all the benefits your Credit Pass account can provide:
Sign up by navigating to the Credit Pass page via this link
Verify your mobile number through a one-time password (OTP)
Provide your name and PAN card details to complete the process
Upon submission, you will receive access to your Credit Pass account and all the valuable insights and tools to help you better your credit health.
Taking control of your financial future begins with regularly monitoring your score. By actively managing your credit health, you'll always be in the driver's seat. Your Credit Pass dashboard equips you with the power to effectively navigate the credit landscape and steer towards your goals with confidence.