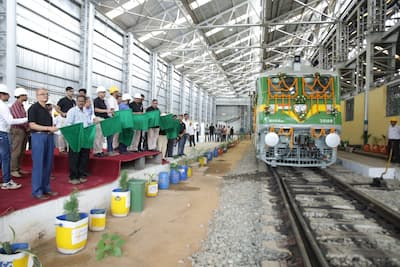 The 300th electric locomotive, WAG 9HC (No.38189) of the financial year 2023-24 was flagged off, today from the Test Shed of Shop-19 of Chittaranjan Locomotive Works (CLW) workshop premises by P R Das ,SSE alongside Shri Debi Prasad Dash, General Manager CLW.
This marks the swiftest production of 300 locomotives to date. Principal Heads of Deptt.,Sr.Officers, supervisors and staff were present during the flagg off.
This extraordinary achievement comes within the first six months of the current fiscal year, setting a new production record for CLW. The pace of production exemplifies a testament to the hard work, dedication, and strategic planning of the entire CLW team.
This remarkable accomplishment was made possible through the visionary leadership of Shri Debi Prasad Dash, General Manager, CLW whose continuous motivation and astute resource planning were instrumental in this feat. Shri Debi Prasad Dash, General Manager congratulated the entire 'Team CLW' for this remarkable achievement.