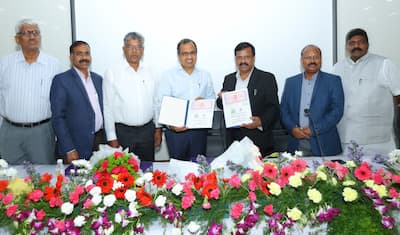 Kolakata, 28 March : Coal India Limited (CIL) has signed an MoU with Osmania University (OU) for creation of "CIL Chair Professor – Coal Mining" at its University College of Engineering (UCE).
The MoU was signed in the presence of Pramod Agrawal, Chairman, CIL, Professor D. Ravinder, Vice Chancellor, OU and seniors from the mining engineering fraternity.
Addressing the gathering, Chairman CIL said that the partnership between CIL &OU will enable knowledge dissemination, research and innovation for the betterment of mining industry and the society at large.
The "CIL Chair Professor – Coal Mining" will assist and provide consultancy to CIL, its subsidiaries and Ministry of Coal in their works pertaining to the coal sector.
Dr. B. Veera Reddy, Director (Technical) – CIL signed the MoU on behalf of CIL, while Prof Laxmi Narayan, Registrar, OU was the signatory on behalf of Osmania University.