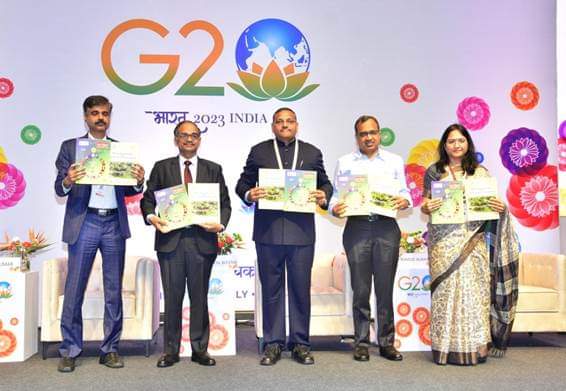 The Ministry of Coal, under the guidance of Secretary, Coal Shri Amrit Lal Meena, has successfully concluded a Seminar on Just Transition Roadmap in Mumbai today. The seminar was held at Jio World Convention Centre as a side event of the 3rd ETWG (Energy Transitions Working Group) of the G20 Presidency of India.
The inaugural session commenced with welcome address by Shri Bhabani Prasad Pati, Joint Secretary, Ministry of Coal who emphasized the importance of a just transition in the context of energy transitions. Shri Amrit Lal Meena delivered the key note address on the Just Transition and emphasized the Government's commitment to striking a delicate balance between energy security, environmental sustainability and socio-economic development. He highlighted the need for comprehensive strategies, collaborative partnerships and robust policy frameworks to facilitate a just transition. Power Secretary and CMD of Coal India Ltd (CIL) also addressed the participants during the inaugural session. The session set the stage for a comprehensive exploration of key challenges and opportunities associated with the just transition, focusing on aspects such as renewable energy deployment, energy access, job creation and social inclusion.
The subsequent presentations provided an overview of the Just Transition. Following the presentation, a panel discussion was held, featuring renowned experts who shared their insights and experiences on various dimensions of just transition in the energy sector. The panellists engaged in a dynamic exchange of ideas, discussing innovative approaches, technology advancements and policy frameworks that can accelerate the transition while addressing the needs of affected communities and workers.
A short film on Sustainable & Environment-friendly Initiatives in Coal Sector was showcased which was well-appreciated by the participants. Report on Best Global Practices for Just Transition in Coal Sector, booklets on Bio-reclamation/Plantation and Eco-parks/Mine Tourism, and G20 Special Edition of MineTech on Just Transition was also released during the seminar.
The Seminar on Just Transition Roadmap witnessed the presence of more than 100 dignitaries, including high-ranking government officials, international experts, industry leaders and esteemed academicians. This platform aimed to foster a comprehensive understanding of the challenges and opportunities associated with transitioning from fossil fuel dependent economies to sustainable energy sources, while ensuring social justice and inclusivity. The Just Transition Roadmap seeks to ensure a fair and equitable transition for workers, communities and industries as the world shifts towards cleaner and more sustainable energy sources.
The Ministry of Coal expresses its gratitude to all the participants, Coal India Limited, CMPDI, partners, and stakeholders for their invaluable contributions in making the seminar a resounding success. The event served as a significant milestone in the collective efforts towards charting a sustainable just transition by ensuring no one left behind.